Post by LoLi☩GoThiC on Jul 6, 2017 21:19:11 GMT
Mayume Aine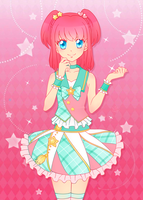 School:
Starlight Academy (1st year)
School Coord:
Mint Parade Coord
Idol Type:
cute
Favorite Brand:
Pastel Fantasia (original brand)
Aura:
- basic: pastel colored star and heart sparkles
- advance: addition of bouncing star gems with pearl entrails that circles around her
Rough idea of her aura -->
Speciality:
modeling
Unit:
n/a
Appearance:
Aine has shoulder length dark pink hair which she usually keeps in pigtails. She has a petite figure and is quite short for a model, only around 145 cm tall. She likes to wear pastels (mint green, pastel pink, lilac, pale yellow, etc.) and her casual outfits are heavily influenced by fairy kei fashion.
Personality:
Aine is a girl full of dreams and imaginations. She LOVES cute stuff and collects a lot of stuffed toys. She is quite nice and likable in general, but doesn't really have any close friend, mostly due to her insensitive nature. Her mind sometimes trails off to la-la-land, resulting her failing to pay attention to people around her. Nevertheless she never feels lonely because she has tons of "friends" waiting for her in her room (aka her stuffs toys) as well as her older brother who will always support her no matter what.
+ very focused on her dreams, good fashion sense, imaginative & original.
- severe brother complex, spoiled, childish, can be very stubborn at times, won't admit her mistakes.
Likes: Her big bro Kazune, stuffed toys, cute stuff in general
Dislikes: her height, rude people
History:
Aine was introduced to showbiz ever since she was small. Her parents were photographers while her older brother was a genius child model. She liked to tag along to the studio and watched her parents taking photos of her brother. She really looked up to him and wanted to be like him. However, shortly after she managed to become a model herself, her brother then got into an accident and had to retire. She was really saddened from this and refused to attend photo shot. She became really clingy to him and stayed with him most of the time. Her parents were concern seeing her and tried to find a way to make her return to the entertainment world as she also had a big potential. They then decided to enroll her to the Starlight Academy. At first she was really mad because they did it without her consent, but then her brother revealed to her that, even though he couldn't become a model anymore, he now studied to become a fashion designer. She now has a new dream, which is to become a top idol with her brother's brand.
Timeline: She transfered into Starlight Academy sometime before the Starlight Queen Cup (the one at the end of season 4). She would be on the same grade as Madoka and Rin.
Whatever fits the RP
Side note:
She is also Pastel Fantasia's muse, despite being only a newcomer idol. The brand is also still small so she and her brother promise each other: Aine would become a top idol befitting to be the brand's muse, while he would make the brand big and befitting to be adorned by a top idol.